HomePage - aboutMyNotions - DoingStuff - ThinkingOutLoud - RemindAndRecord - and TheOtherThings
-
wb`20140828`3616
---
---
Changes
---
FederatingStuff
---
Federated Wiki Pages
these are in one of many of my`federations`spaces
---
Other places I am in the web:
---
Keeping track of Notable Persons and Places
Ward Cunningham
Phil Jones
---
Federated Places
Federation Development
---
Other sfw sites
---
---
Other kinds of Wiki Web Sites
---
I'm DoingStuff
that I don't even have the faintest idea
---
To do this, I'm
Listening for things-that-can-be-heard - within-and-without
from-these I'm - Making a list and checking-it-thrice

is it desirable
is it doable
is it done

if it isn't, then will-it-be and when

and also

where it is done
when it is done
who or what is to do it and how
where it is put when it is completed for the moment
where it is put when no more doing is required
---
also important that it is
remembered
reachable

named-numbered
placed
named whether permanent or temporary
---
some stuff becomes unreachable because it is
---
Realizing that it takes
an instant for a notion to form
a moment or more to formalize an idea
a day or a week to make a plan or to initiate a process
a couple of weeks to several months to test.a.model
several months to two years to become a working and adopted artifact or artifactory
three years before it is considered to be in the previous generation of artifacts and artifactories
five to seven years if it is to survive and adapt to the changing environment, and to be "rediscovered", "re-used" or "reinvented" by [[late-adopters]]

after which it has ten to fifty more years during which it remains UsefulUsableUsed [[one to two human generations]]

or if particulary durable, one-hundred to five-thousand years (or longer) (see: Pyramids)
---
Getting Stuff Done
My schedule for "Doing Stuff":

Closed 2013 Projects
Active NysSystems2014 Projects''
FrontBurnerProjects?

Nys.Lte Nys.Systems Linked Text Editor (a complete refactoring of this project)
---
Concentrating on BecomingCompetent in the following areas:
web page construction using

pencil and paper, label-notes
html5
css3
javascript
ajax - books.ajax-in-action - authors.Crane-Passcarello-James - publisher.Manning
perl, php, python, ruby, basic, and java

Development of Style

Site Styles
Page Styles
Group or Instance Syles
Stylesheets
references from the web
references in the model
referenced in line
---
There is more
---
Stuff in Pages
Interesting Pages
Significant Pages

single board micro computer evaluation

Archived Pages
Important Pages
Hints on Pages meant to be followed-up, either by myself or others ( back-links useful )
Topical Pages
Experiment One with EtherPadLite and the SmallestFederatedWiki
---
Current developments and wave-fronts
---
New Pages Written with One Liners
---
create-these-soon
20140828 - DoSomethingAboutWhereYouAre? - EnvironmentalManagement?

What you can do depends upon where you are, and who surrounds and supports you

20140828 - EnduringTopicsAndTechniques?

Some things about stuff and the way to handle it do not change
---
---
Stuff is happening - Conferences - Seminars - Web Camps
---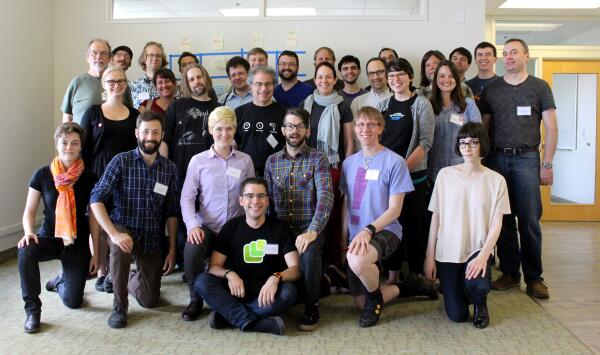 ---
Indie Web Camp - June 2014 - Portland
---
---
---
Plop14 ( 20140914-20140917 )
21st Conference - Monticello.Illinois

PLoP promotes development of pattern languages on all aspects of software, including design and programming, software architecture, user interface design, domain modeling, software processes, project management, and more.
---
WikiSym 2014 is now called OpenSym
The premier research and practitioner conference on OpenCollaboration?
Open collaboration is collaboration that is

egalitarian (everyone can join, no principled or artificial barriers to participation exist)
meritocratic (decisions and status are merit-based rather than imposed)
self-organizing (processes adapt to people rather than people adapt to pre-defined processes
Prime places to find open collaboration
wikis
Wikipedia
WikimediaFoundationProjects?
OpenSourceProjects?
OpenDataInitiatives?
OpenGovernanceInitiatives?
OpenEducationalResources?
The open collaboration definition was agreed-upon by the
WikiSym
steering committee in 2012
after adding OpenCollaboration? to the conference title in 2009
OpenSym
2014 started on August 27, 2014
Participants were involved in a program full of research and community events, including OpenSpace, where participants get to form their own program and follow their interests.
Four keynotes / invited talks will lead the program and set the stage for the breadth of research and practice of open collaboration:
---
OpenSym2014 took place at FraunhoferFokus? in BerlinGermany?
sponsors:

Google
FraunhoferFokus?
AcmSigweb?
AcmSigsoft?
the JohnErnestFoundation?
---
HasWantedPages
---
CategoryHomePage
---

EditText of this page (last edited August 28, 2014) or FindPage with title or text search

---