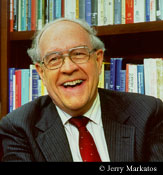 http://www.cs.unc.edu/~brooks
Frederick Phillips Brooks, Jr., author of The
MythicalManMonth
,
NoSilverBullet
, and the recipient of the 1999 ACM
TuringAward
, for "landmark contributions to
ComputerArchitecture
,
OperatingSystem
s, and
SoftwareEngineering
". Professor Emeritus at the University of North Carolina at Chapel Hill. His biography/resume is at
http://www.cs.unc.edu/~brooks/FPB_BIO.CV.04.2007.pdf
.
HeInventedTheTerm
"
ComputerArchitecture
". His time at
InternationalBusinessMachines
seems to have been the basis of his most famous work: he invented modern hardware interrupt systems while working on the
IbmStretch
, he led the whole
IbmSystemThreeSixty
project, and
MythicalManMonth
is based mostly on his experience of leading the software development for the 360. Interestingly, he describes his current research interests as
HumanComputerInteraction
, virtual worlds and 3D interactive computer graphics - not the areas in which his work is widely famous. He has a new book (2010) not yet found (2014) in any of my nearby libraries (
SanDiego
):
The DesignOfDesign: Essays from a ComputerScientist
ISBN 0201362988
I WikiFied
?
the title so pages may be found or created --
ChrisGarrod
20140404.2218 -- another book shares parts of the same title.
WikiGnome
s please help disambiguate this discrepancy.
---
CategoryAuthor
CategoryPerson