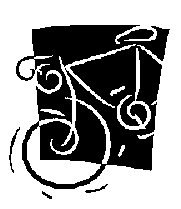 The Yellow Bike Story
Thomas O'Keefe
Joe Keating
We thought the best way to share our experience was to simply give a detailed account of what we have done since we decided to kick off the FREE COMMUNITY BIKE PROGRAM in Portland. The following report certainly won't provide you with all the answers but hopefully it can get you off on the right footing.
UCAN is small non-profit which works on environmental and livability issues which effect the City of Portland. We look for things that will improve Portland. The bike program would do just that. Every way we looked at the bike program it seemed to enhance the community of Portland. So we decided to try our luck in setting it up.
We started in early September last year. We contacted local non-profit cycling center which trains kids to become bike mechanics and they agreed to donate 10 broken down clunkers to us. Steve Gunther, a coordinator for UCAN, allowed us to use his back yard to fix the bikes up. Fixing is basic. We insure that the brakes work and that the tires are sound and we reduce the bikes to single gear bikes. The last is accomplished by removing the derailleur.
The next step was to make the bikes distinguishable. We chose the color yellow. We decided also that the bikes-would need signs explaining to the public the purpose of the bikes. We didn't have any funds so it was necessary to contact people to donate their time and services. We contacted two local auto paint shops and a sign making store and they agreed to help.
Well now we had our 10 bikes repaired, painted, with signs identifying them as free community bikes. The signs also indicated that the bikes were to be used at your own risk, to be returned to a main street after use, and for repair to contact UCAN with our number.

The next step was to call a press conference to announce the opening of the project (See Sample Press Release). Fortunately, the press arrived and we received wonderful local TV coverage and The Oregonian newspaper ran a great story (See local Newspaper articles). Both the TV stations and The Oregonian provided our telephone number for folks who would be interested in donating bikes. Much to our delight the bikes were immediately used by people passing by which provided great photo opportunities.
Our telephone began to ring. People had seen the stories and wanted to donate bikes. It appears that there are thousands of old, abandoned bikes in peoples garages and people love the spirit of free community bikes. Steve's back yard was filling up pretty quickly and soon we had accumulated about 75 bikes all in various state of repair and disrepair. It turned out that 50 of the bikes were repairable and the 25 bikes that weren't we cannibalized and turned them over to our local scrap metal dealer.
By this time volunteers were coming forward to help us with the repair cycle. Additionally we began to see the natural alliance between ourselves and the Community Cycling Center (CCC) who had contributed our original bikes. Some of the bikes that were donated were actually too good for the program. CCC agreed to swap these bikes 2 for 1 for older bikes more suitable for community use.
After several work parties in Steve's back yard it was very clear we needed an enclosed warehouse for our operation to continue. So we began a search for some entity to donate a warehouse to the program. We also realized that we needed trucks to move the bikes to and from the painting shops. U-HAUL trucks agreed to provide trucks.
The timing was mid October when we were able to present the 50 freshly painted, repaired, and signed bikes to the city. This brought our total up to 60 bikes. We presented the bikes at Pioneer Square in center city Portland which is a very busy and picturesque place. We, of course, had another press conference. The sight was great - yellow bikes buzzing all over downtown Portland with the media in hot pursuit.
Our visibility was increasing very fast now. City officials began to see the potential of the program and Portland endorsed the program and asked to help (See City Endorsement). Their immediate help came in the for m of a warehouse space for us to operate in. The city contacted Multnomah County who agreed to let us use a empty, warm, and dry space.
The Community Cycling Center became co-sponsors the program and began to figure out how best to sustain and maintain a large fleet of bikes. Our estimate is that it will take 1000 yellow bikes in Portland for the program to reach critical mass. That number is an educated guess but we feel it is about right for people to be able to anticipate the availability of a yellow bike in Portland.
Our fleet was continuing to grow when The Oregonian ran another story about the program. It was a great article which featured the day in the life of a free community bike (See local news articles). It truly romanticized the yellow bike and people really began to see what a positive community event was unfolding in front of them. The New York Times picked up on the story and ran a wonderful news article and then the Sunday Times Magazine also did a piece. At this point "Good Morning America" and "Inside Edition" shot stories and before we knew it more news articles were written and a number of national radio shows picked up our efforts.
That brings us up to date. We have 100 bikes on the street. Our warehouse is filled. We will have another 100 bikes ready for distribution in two weeks bringing our total up to 200 bikes as we march to our critical mass of 1000 bikes.
All of this has been done without financing but we are now at the stage where we must look realistically at raising capital to ensure the success of the program. We are currently preparing a packet for financing from corporate sponsors. We are very optimistic about our chances and we will gladly share our experience with you. Our initial annual budget is in the range of $56,000.
We are asked frequently about liability. It is possible in this day an age that some people may take advantage of the program. We feel the best solution for this potential risk is to make sure that the sponsoring entity has just enough assets to fund its current operations.
We are continually learning. For example we are finding that our signs are not lasting as long as we would like. So, we are now going to use decals as well as signs for our next group. We are also finding new sources for bikes. The police, Goodwill, and The Salvation Army are excellent sources. We are currently looking for a bigger warehouse space as we are beginning to out grow our current space. The important thing is to remember that whatever your needs are don't hesitate to ask for help. People and organizations really will get excited about getting involved with your community yellow bike program.
---
ybp