n46 w122 -- Wind River
Ward Cunningham
Steven Newton
September 3, 2000

GOAL
This confluence is in the Wind River section of the Gifford Pinchot National Forest. It is sixteen miles southeast of Mount Saint Helens, famous for the 1980 eruption the resulted in nearly 150 square miles of forest blown over or left dead and standing and a column of ash that drifted downwind over eastern Washington and beyond.
TRIP
Our mounts for the journey were to be a 4wd Jeep Wrangler and a pair of mountain bikes and good old hiking boots.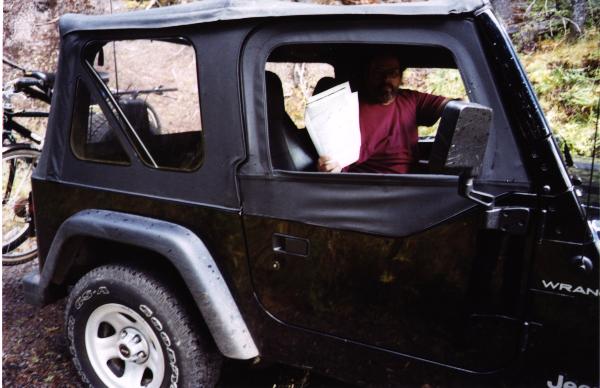 Here is the route:
From Carson, Washington take Wind River Road North. Drive 13 miles. Pass Carson National Fish Hatchery. Bear right on Meadow Creek road. Drive 9.4 miles. (1 mile short of Oldman Pass) Turn left on NFD 31. Drive 2.2 miles. Left on NFD 3107. Drive 0.8 miles. Right to continue on NFD 3107. Drive 0.7 miles. Bear right first unimproved road (before hairpin left turn). Drive 300 yards. Head northwest. Walk 25 yards.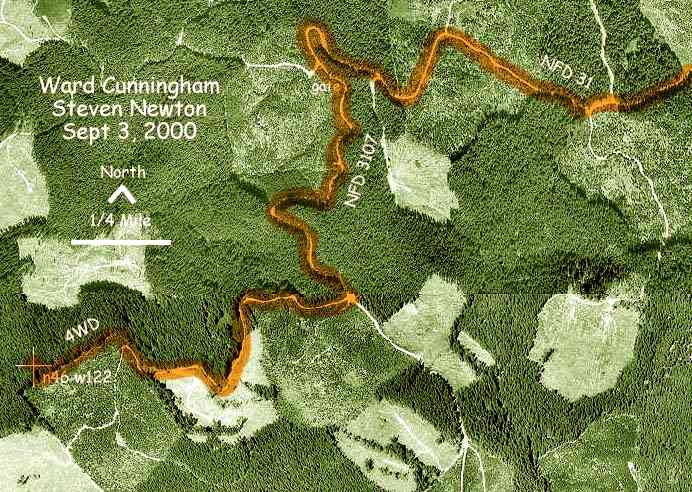 We left Portland mid morning and followed Washington route 14 along the Columbia River to Carson, Washington. There we headed north the Wind River Highway. Once in the National Forest we detoured to a 1500' high viewpoint Bunker Hill (n45 49.318' w121 56.175') where we could see the Wind River Canopy Crane Research Facility.
DISCOVERY
A forest ranger we spoke to by telephone warned us that NFD 3107 would be gated (the gate is at n46 0.610' w121 59.128') as it is the entry point to a Disabled Hunting area. This is the outdoors equivalent of a handicap parking area. We pushed on with our mountain bikes for the last two miles which happened to be almost all down hill.

The confluence is located in second growth forest at an elevation of 3100', within sight of the old logging road that defines the boundary between younger recently cut trees and 30- year old trees.
EXPERIENCE
The Pacific Northwest in September can mean rain, but we hadn't actually experienced any until arriving at the confluence. The forest grew dark as the clouds thickened. We found ourselves shooting 400 speed film with the camera wide open and braced against vibration. The ride back out to the jeep the sky started to rain and then pelt us with BB-sized hail.

See also the official posting of this page.